校史沿革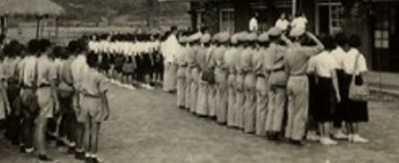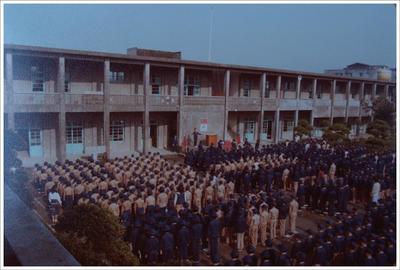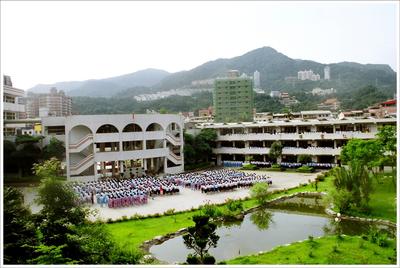 學校概要
本校位於倚山傍水的新北市汐止區,規模屬於中型學校,全校國中部39班,特教班1班,高中部29班,總班級數為69班。師生互動密切,校園文化一直朝向「民主、尊重、專業、關懷」的目標前進。
Overview
Xiufeng High School is situated at Xizhi District, an area surrounded by mountains and lakes in New Taipei City. Xiufeng is medium-sized. Its Day Division consists of junior high school and senior high school. The former is composed of 45 regular classes, 2 special education classes, 1 resource class, and 1 vocational training class. The latter is made up of 18 regular classes, 3 P.E.-gifted classes. In total, its Day Division has 70 classes. As for its Evening Division, there are 3 classes for senior high education. Xiufeng has 2,599 students, and 174 teachers and staff members. It is proud of the intimate interaction between students and teachers. It is sure that its culture will keep moving toward the goals of autonomy, respect, proficiency, and love.
發展歷史
本校創校於民國44年(1955年),為臺灣五省中之分部,全名為「臺北第二女子中學、臺北建國中學、師範大學附屬中學、成功中學、臺北第一女子中學汐止聯合分部」,行政上隸屬於「臺北第二女子中學分部」,簡稱為「汐聯」。民國53年(1964年)改制為「臺北縣立秀峰初級中學」。民國57年(1968年)全臺實施九年國民義務教育,隨之改制為「臺北縣立秀峰國民中學」。民國86年(1997年)8月1日為配合教育政策,改制為「臺北縣立秀峰中學」,成為國高中兼收之完全中學。民國89年(2000年)10月4日,經臺北縣政府核定更名為「臺北縣立秀峰高級中學」。民國99年(2010年)12月25日隨臺北縣升格改制為新北市,學校隨之更名為「新北市立秀峰高級中學」。
本校素為「汐止第一學府」,亦為汐止地區培育優秀人才暨社區文化發展的前哨站。近年來學校周邊也因地方各項建設整建,交通便捷、資源豐富;同時,校園內環境美化、老舊設施更新、運動場的整建及選手訓練站、學生數位學習中心與教師教學媒體中心的增設,更提供學生多元學習的資源,創造學校教育的新局面。
History
Xiufeng was established in 1955 as the joint division of five national senior high schools. Its full name was Xizhi Joint Division of Taipei Second Girls High School, Taipei Municipal Jianguo High School, The Affiliated Senior High School of National Taiwan Normal University, Taipei Chenggong High School, and Taipei First Girls High School. Its full name was abbreviated as Xizhi Joint School. In regard to administration, it was subordinated toTaipei Second Girls High School.
In 1964, it was reformed as Taipei County Municipal Xiufeng Middle School. In 1968, due to the full-scale implementation of the nine-year public education program in Taiwan, it was adjusted asTaipei County Municipal Xiufeng Junior High School. On August 1st, 1997, in order to meet the educational policy, it was modified as Taipei County Municipal Xiufeng High School to be a complete school enrolling both junior and senior high schoolers. On October 4th, 2000, with the approval of Taipei County government, its name was changed to be Taipei County Municipal Xiufeng Senior High School. On December 25th, 2000, because Taipei County was upgraded to a special municipality as New Taipei City, its name was altered to beNewTaipei Municipal Xiufeng High School.
Xiufeng is known as the number one high school in Xizhi. In addition, it is the fortress to cultivate talents and develop culture. Recently, its surroundings are bettered with convenient transportation and abundent resources as the result of the reconstruction of facilities. Moreover, with its campus beautified, its structures brought up to date, its playground rebuilt, and its sport player training station, student e-learning center, and teaching media center newly established, Xiufeng further provides students with multiple learning resources, creating a new phase of school education.
學校建築與設備
本校校區建築採動靜分明之區隔。除普通教室外,尚有專科教室17間,分別為:理化教室2間、生物教室2間、生活科技教室2間、視聽教室1間、美術教室2間、音樂教室2間、電腦教室3間、烹飪教室2間、科技智慧教室1間。除有可容納全校師生2600餘人集會活動之體育館,內設棒壘球室內打擊場、重力訓練區、跆拳道練習場與學生社團活動室等,並設有室外體育活動之運動場。另有六層樓之圖書館,為師生之最愛,內設演藝廳(290人座)、展示廳、簡報室、學生數位學習中心,以及400餘席次之閱覽區與K書中心。
Buildings and Equipments
Buildings in Xiufeng are classified according to their functions. In total, there are 69 regular classrooms, 2 individual consulting rooms, 1 group counseling room, and 21 course classrooms, including 3 physics and chemistry labs, 2 biology classrooms, 1 living technology and earth science classroom, 1 audio-visual classroom, 2 art classrooms, 2 music classrooms, 1 performance classroom, 3 computer classrooms, 2 culinary arts classrooms, 1 language lab, and 3 multifunction classrooms.
Besides the classrooms, there is a stadium with the capacity of more than 2600 people. It is also a gymnasium equiped with an indoor basketball and softball practice field, a weight training area, a Taekwando practice field, and student extra-curriculum activity rooms. In addition to the indoor gymnasium, there is a playground for all outdoor sports. Aside from the buildings aforementioned, there is a six-story library, which is popular with students and teachers. It is built with an auditorium (with 290 seats), an exhibition hall, a two-story stack area, a meeting room, a briefing room, a student e-learning center, a teaching media center, a reading area (with more than 400 seats), and a study center.